In this article, we will provide you with information on how Mailbird's Block Sender feature works - this is a highly useful feature which allows you to no longer receive emails from a specific email address in your inbox. Instead, any emails from a sender who has been blocked will go into your Spam or Junk folder.
Let's take a closer look at how this feature works:
First, it's important to note that this feature will only work if Mailbird is running - in other words, if you have blocked a sender in Mailbird, then Mailbird must be running in order for it to block any emails sent to you by the blocked sender.
If you would like to block a sender in order to no longer see their emails appear in your inbox, you simply need to click on the three vertical dots at the top of one of their emails, and then click on Block "X".

The X represents the contact's name - for example, in the image below, the sender was "Mailbird".
If you have mistakenly blocked a sender, or you would simply like to unblock them, then all you need to do is click on Unblock sender, which will appear at the top of any of the sender's email.

As shown in the image below, it is also possible to view a list of all senders you have blocked in order to review or unblock them. Here's how:

Open the Mailbird menu in the top lefthand corner (i.e. the three horizontal lines).
Click on Settings.
Navigate to the Filters tab.
At the bottom of this windows, you will find the list of all the blocked senders.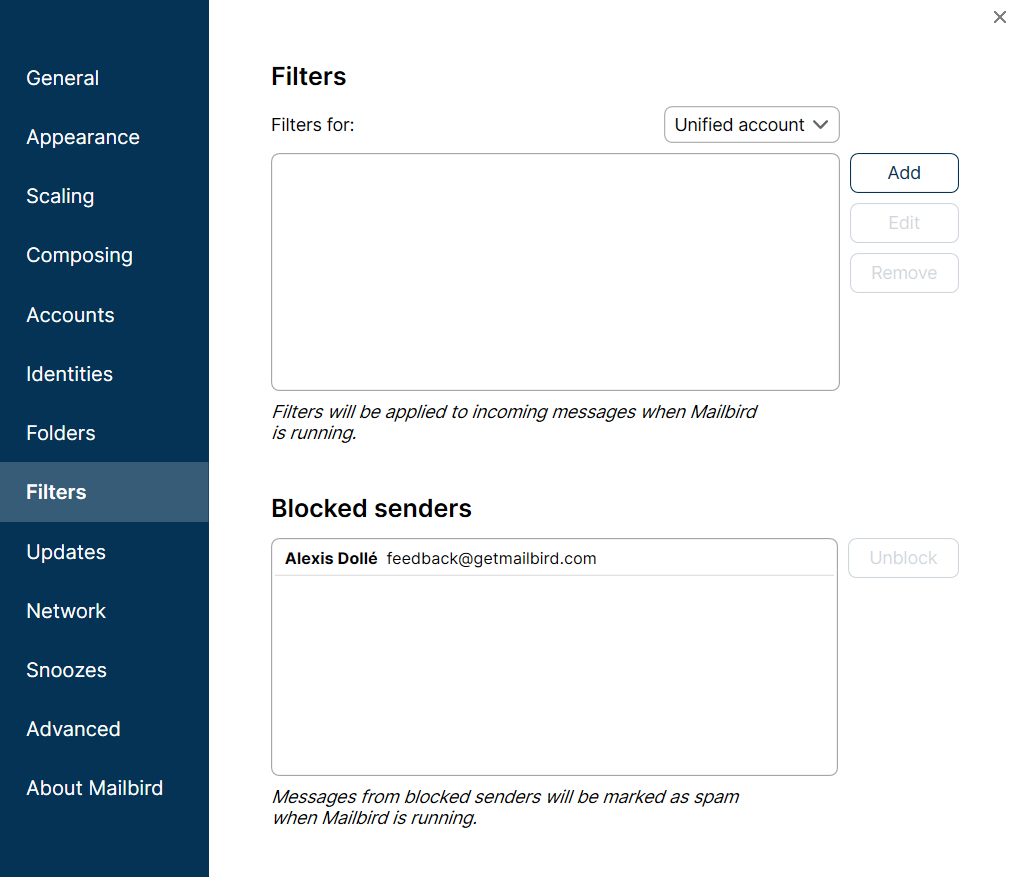 Hopefully you have found this article useful, but if you still require assistance, please do not hesitate to contact our Customer Happiness Team by clicking here.