Not a fan of using the mouse? We've got all the keyboard shortcuts ready right at your fingertips, including familiar Gmail keyboard shortcuts that you may already use. To explore this further:
1) Click on the top left Mailbird drop down menu in the app.
2) Select Help -> Shortcuts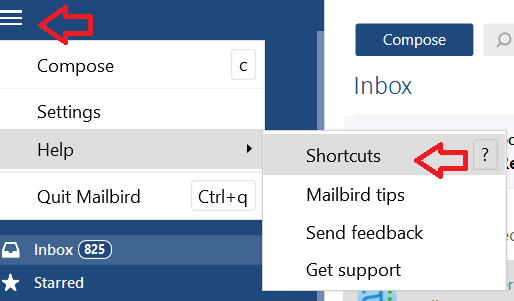 3) A window will pop up showing all the different keyboard shortcuts you can use.
4) To search for any keyboard shortcut, simply click on the magnified glass icon on the top right of the window and type your keyboard shortcut search. For example type "compose" and you will find all keyboard shortcuts related to composing an email.
OR
Use a keyboard shortcut of "Shift" + "?" and that will also automatically pull up your keyboard shortcut options up. In case you wanted to print a complete list of the shortcut here's a link to it "Mailbird shortcut list"
We hope you use them to further improve your efficiency and speed with email using Mailbird.