Using Mailbird's folder feature is awesome for organizing your inbox or multiple inboxes - depending on how many email accounts you've added to Mailbird.
They basically allow you to archive and easily find emails, so you are much more efficient when handling emails while also getting better at clearing out all emails in your inbox.
Here's how to set up and use folders in Mailbird:
1) In the main Mailbird window, click on the Mailbird menu in the top left corner.
2) Select "Settings"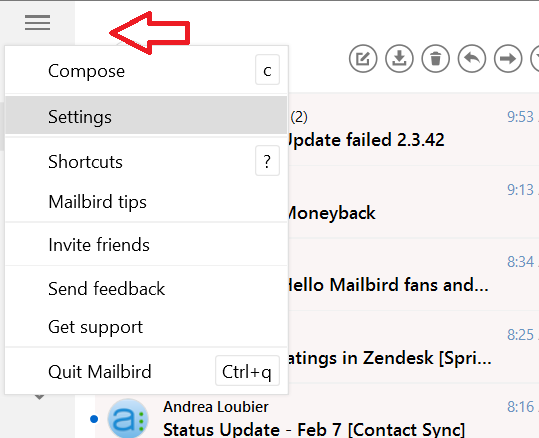 3) Select "Folders"
4) Here you can Add/Edit/Remove folders from any selected email account you've added to Mailbird.
5) You can even create sub folders inside one parent folder, these are called Nested Folders.
6) Change the color of the folders by clicking on the box next to the Folder names you've created to make them easily identifiable.
7) Once you are all done, hit the "Sync with server" button and you are all set.
Now you can use the "V" keyboard shortcut or the + sign at the top right corner of any email message, to assign it to any folder you've created. You are on your way to being a total badass with keeping your inbox clean and organized.