In order to make in-line replies clearer and easier to understand, Mailbird offers its customers the option to change the color of such replies.
But what are in-line replies in case you are wondering? If an email which you have received contains a list of questions or bullet points, an in-line reply consists of your answers to each of those questions or points.
They can occasionally become confusing to the recipients of your replies, since your answers can end up 'blending in' with the rest of the email, making it difficult to distinguish what has been added (and what hasn't).
Mailbird solves this issue by automatically placing your name in a color-coded manner right before your in-line replies.
Below are the steps to set your name and color for your inline replies:
Open the Mailbird menu in the top lefthand corner (i.e. the three horizontal lines).
Click on Settings.
Navigate to the Composing tab.
Here, you can set your name and color under In-line reply intro text, as shown below.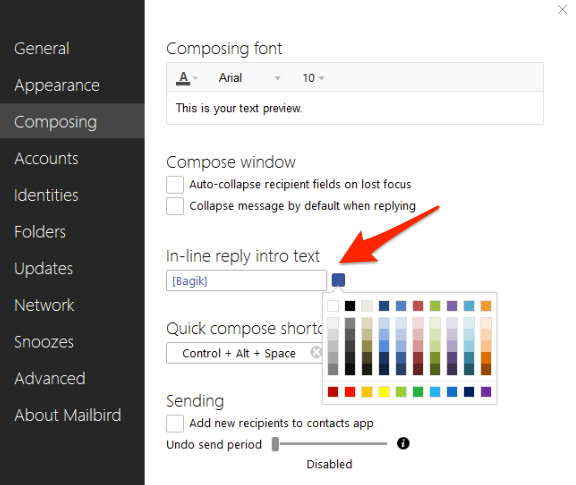 Here's a tip for using in-line replies: if you want to start a new line without triggering an inline reply, then you can press Shift + Enter (instead of just Enter as usual).
Hopefully you have found this article useful, but if you still require assistance, please do not hesitate to contact our Customer Happiness Team by clicking here.