In this article we will show you how to create an email signature in Mailbird. Email signatures are a great way to make your emails look professional and legitimate, and in a few simple steps, you will be able to create your very own email signature in Mailbird.
Creating your email signature
Go the Menu icon in Mailbird (i.e. the three horizontal lines in the top left-hand corner of Mailbird)
Click on Settings
Select the Identities tab
Double-click on an identity to edit the signature, as shown in the screenshot below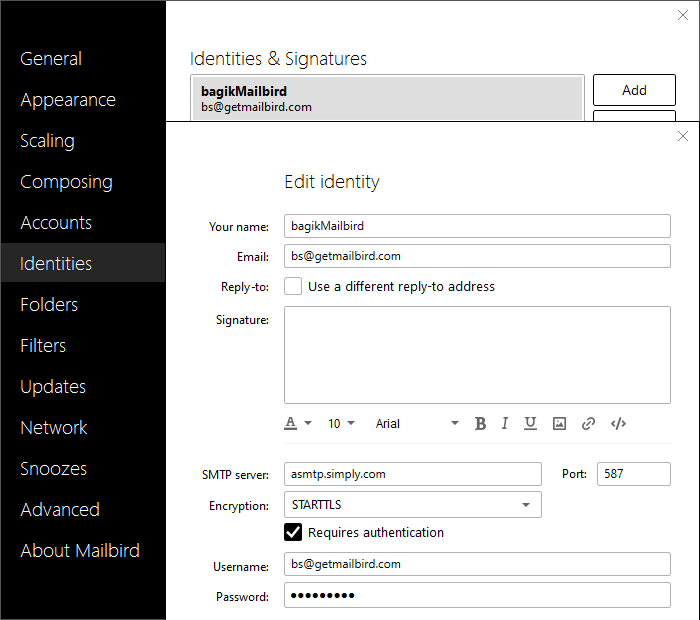 Adding an image to your signature
It's very simple to add a picture to your signature: just click on the "insert image" icon which you can find near the other formatting icons, as shown below:

Keep in mind that there are two ways in which you can insert an image:
First, you can upload the image directly from your local device/storage.

Use the file browser to search for an image on your device
Set the size that you prefer
Then click insert
Please, try to keep the image size as small as possible to allow for a faster email experience for both yourself, as well as the recipients of your emails. If you upload a large image (such as 5MB+) it can affect the speed at which Mailbird sends emails, and it could potentially engage the spam filter on your recipient's side (which would lead to them probably never seeing your emails).
In case any image exceeds 15kb, it shows as attachment in the web mail of Gmail, so if you want your Gmail recipients to see it as inline image, you need to use the one below 15kb.
We suggest using Squoosh app to optimize your image for the web. This can reduce the size in half without compromising its quality.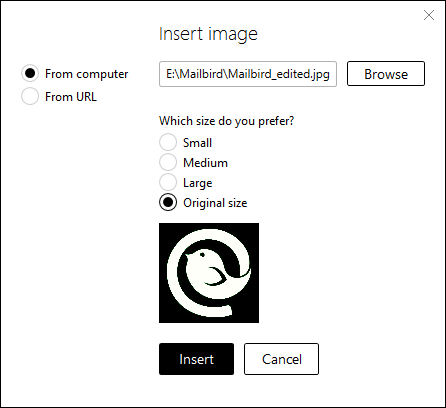 Alternatively, you can upload your signature image to an image hosting website.

After that, simply paste the location of the image file in Mailbird. Usually, the link of the file location ends with the format of the image. So, for example https://example.mailbird.jpg
To get the direct URL, we suggest using one of these free services:
We have included a walkthrough guide below to take you through the process of using Imgur for your signature image:
Choose Photo/Video or you can drop the images
Wait until you see the upload complete text
At the image, right-click and choose copy image location
Go to your Mailbird menu>settings>identities and double click the identity.
Click inside the signature box and then click the insert image
Paste the URL (the image location that you copy earlier/point 4).
Choose the size and then click the add button.
Below is a video screencast on how to create the URL with Imgur in case the steps are not clear: