In this article, we will provide you with information on how to make your inbox list more organized and appear better by making the most of our Sender Avatars.
If you look at the image below, you can see that some of the avatars do not have an image, and they simply display a silhouette of an individual. These are people with whom no avatar is associated.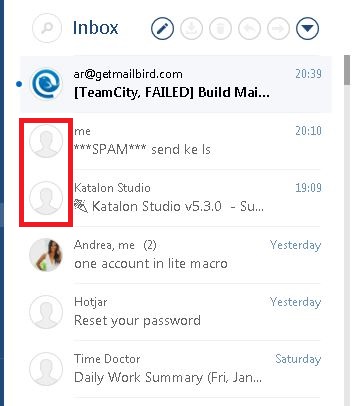 Now we'll explain how you change this - in fact, there are two ways to add sender avatars:
You can go to your Mailbird Contacts app, find and edit the contacts for which you would like to include an avatar, and add a picture. You can find more details on how to do this by clicking here.
If you do not want to change the sender avatars one by one, then there's a handy workaround: simply import your contacts from another account (currently we support Gmail and Outlook accounts) and the sender avatars will sync automatically. You can find out more about this in here.
Once you have done this you will not see the plain silhouettes in your inbox list, and you can now recognize the email sender much more quickly.
As always, if you have any further questions about this topic, please don't hesitate to contact a member of our Customer Happiness Team by clicking here.