If you have a Microsoft 365 account (also known as Office 365), you can add it using OAuth 2.0 (modern authentication) in Mailbird.
1. In Menu -> Settings -> Accounts click "Add" and input your details: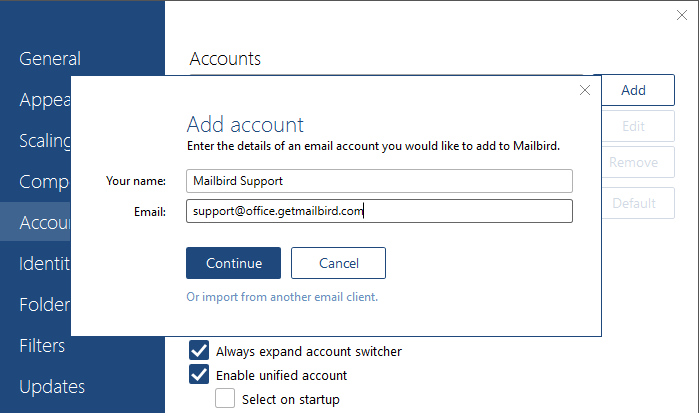 2. Click "Continue" in the next step and you will be redirected to the Microsoft login page. After you log in, you can return to Mailbird and your account should be ready to use.
Important things:
- If your account is Microsoft 365 we will automatically try to use OAuth 2.0 authentication so you don't need to check anything
- OAuth 2.0 is supported for Microsoft 365 accounts, but NOT for personal Outlook accounts (e.g. @outlook.com or @hotmail.com accounts)
- OAuth 2.0 is NOT supported for on-premise Exchange servers and hybrid Exchange Server deployments
* How to find out if your Exchange server is hybrid or not:
1. Visit https://mxtoolbox.com/SuperTool.aspx
2. Put your email server like: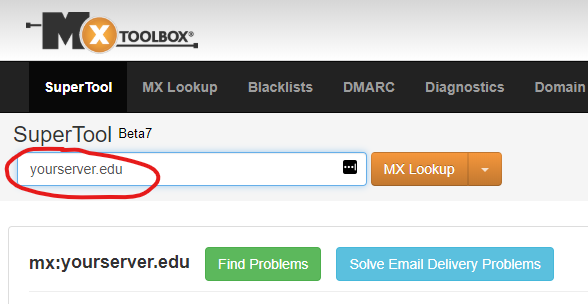 and click MX lookup.
3. In the results, if there is a hostname that is ending with "outlook.com" or "office365.com" then you can add your account using OAuth 2.0 in Mailbird
If it is NOT, then you will have to use login and password authentication. If you have MFA (Multi factor authentication) enabled, you need to use an App password generated by your email server. If you do not have MFA, you need to use normal password. Here's how you can create one:
https://docs.microsoft.com/en-us/azure/active-directory/user-help/multi-factor-authentication-end-user-app-passwords#create-new-app-passwords
- By default, Mailbird will try to use IMAP protocol, but you can also use Exchange or POP3 protocol by choosing "Edit server settings" and changing "Server type".